Subscribing to Push Notifications
Marfeel provides users with multiple methods to subscribe to a partner's push notifications for Marfeel PWAs (Progressive WebApp).
The design and UX behind every option to subscribe is a step away from the industry trends of loud and intrusive solicitations, and instead, fall in line with Marfeel's core philosophy of delivering an organic and optimized user experience, always. Ultimately, the primary intention behind the design is to respect the reader and provide the clear options for them to intentionally subscribe.
All the subscription mechanisms below are only accessible to users that have not already subscribed to push notifications, and that are eligible for this feature. Otherwise, these UI elements are removed from the screen to reduce visual noise.
Methods to subscribe
Marfeel has engineered the following different methods for users to subscribe to a partner's Marfeel PWA push notifications:
Header
A notification (bell) icon in the top-right corner of the page the user is viewing.
When tapped, a confirmation message is displayed and the user would simply have to tap Allow to enable push notifications.
Banner
When an ad space is returned empty, Marfeel leverages this opportunity to display a banner asking if the user would like to enable push notifications.
When tapped, the user would select Allow in the same confirmation window as the aforementioned option.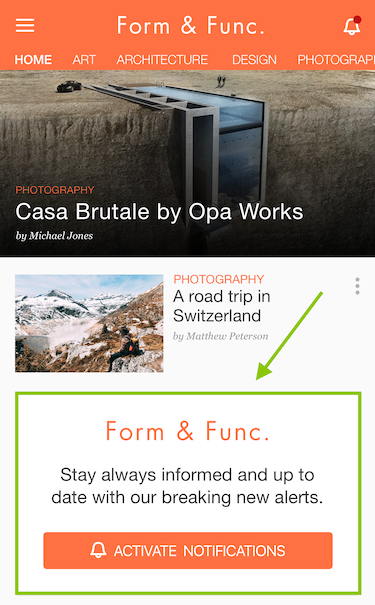 Disable push notifications
When a user has subscribed to push notifications, a toggle button appears in the lateral menu. At any point, users can disable them by:
Switching the toggle button to the left.
Selecting Block in the confirmation window, and then following the directions the Chrome browser displays to disable notifications in the user's device settings.
Users can then always re-enable notifications at any time switching the toggle button back to the right.