Fast Path is Marfeel's support model that streamlines our support process and aims to accelerate the resolution time for each partner query and issue.
Our objective with this process is to provide a first response within the first hour of receiving the issue, and in cases where it's technically feasible, provide a solution within an hour of picking it up for cases received during business hours at our headquarters in Barcelona.
We're committed to continually improving all aspects of our offer and that includes our support model. The Fast Path support process is a step in that direction.
Fast Path Process Steps
Step 1 - Report the issue
When a publisher that has gone live with their Marfeel mobile site and encounters an issue, they must send an email to our Customer Success (CS) team at success@marfeel.com. Issues can also be reported directly in the Marfeel Help Center.
Partners are encouraged to limit the issues in each email to one request or issue per email so they can be efficiently analyzed, distributed, and solved.
It's also key that new issues or topics be opened in a new email thread to provide the highest quality of support and resolution speed.
Step 2 - Triage
The Marfeel Support team reviews the issue and determines whether it can be immediately addressed and solved, or requires further investigation. Depending on their analysis, the support ticket goes to one of the next two possible destinations in the process.
To be selectable for the fast-path the following conditions must all be met:
Issue must be reproducible. Provide as much details as possible along with screenshots
Only one thing must be reported on the ticket
a) Resolution within an hour
If the issue can be solved immediately, the Support team resolves it within an hour and communicates this to the partner.
b) Technical analysis and clarification needed
If the issue is complex and requires technical analysis and possibly ad-hoc development, the support ticket is escalated back to the Customer Success team. Our CS team then opens the communication channels necessary between the partner and the appropriate Marfeel technical team to clarify the issue at hand, provide feedback, and arrive at a solution.
Depending on the nature of the issue and effort needed to solve it, the resolution time can vary.
Step 3 - Resolution to partner
In the final step of the process, the resolution is communicated to the partner.
The email provides an evaluation option that serves as the publisher's confirmation and validation of the resolution.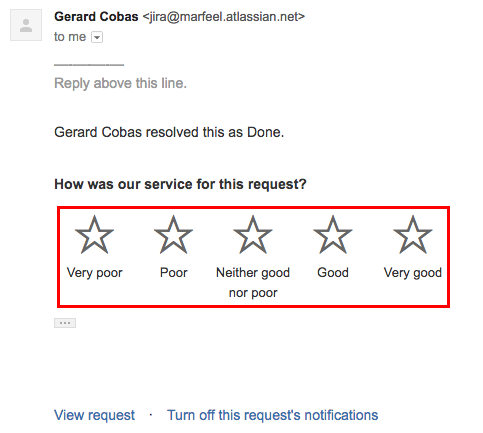 They can rate the service provided and enter additional comments on the subsequent page.
If this step isn't completed, the ticket is automatically set to resolved after 5 days without a response, however, it can be opened again by replying to the final email.