What it Means to be a Google Certified Publishing Partner
Marfeel is thrilled to be a Google Certified Publishing Partner. Being selected by Google to join this elite and exclusive group of companies is a testament to Marfeel's quality and imagination.
More importantly, it's a clear indication of the value Marfeel delivers and the boundless potential the future holds for all its customers.
What exactly is a Google Certified Publishing Partner?
A Google Certified Publishing Partner is a proven expert in the mobile ecosystem, committed to the highest service standards Google outlined for this esteemed partnership.
During the selection process, Google did their due diligence to ensure Marfeel exceeded their rigorous qualification model. They closely examined Marfeel's internal operations, ad setup, client satisfaction record, and development, testing, and implementation processes. Even our engineers were thoroughly tested.
The intention was to vet Marfeel as one of the biggest and brightest in the game. In the end, Marfeel came out with flying colors on the coattails of their ingenuity in mobile, design, technology, and monetization.
What this means for customers is the confidence that Marfeel will make their ad inventory work harder for them through a revolutionary UX that is comprehensively recognized by an industry leader like Google, so publishers can focus on what drives them - creating relevant and compelling content that resonates with their readers.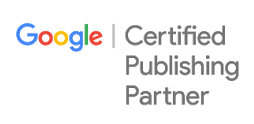 The difference between being a Google Certified Publishing Partner and a Google Technology Partner
In addition to being a Certified Publishing Partner, Marfeel is also a Google Technology Partner in their Google AMP initiative. This endeavour means Marfeel is committed to the continuous improvement of the mobile experience and its evolution by teaming up with other tech leaders like Google.
Being both a technology partner and a Certified Publishing Partner proves that Marfeel's one of a kind.
Not only is Marfeel a leader and innovator, but they're also a holistic provider. Marfeel doesn't just offer a sophisticated ad setup that maximizes revenue, they deliver a total solution that drives traffic, session time, and yield per visit through the following elements:
Optimal speed and performance that's under constant enhancement
Great monetization strategy through Marfeel Sonar, Marfeel Link and Marfeel Twister
The latest technical developments automatically pushed to all customers without any IT support needed
A dedicated and proprietary SSP (Supply-side Platform) team that shape the sophisticated algorithms that maximize a customer's ad inventory and revenue.
Here to stay
Marfeel's excellence and expertise in mobile is an invaluable asset to any publisher. Google's recognition through the Certified Publishing Partner program simply reinforces that and also provides credence to something just as important - that Marfeel's not just another fly-by-night pop-up. They're here to stay. And they're here to change the game.
Google recognizes the talent and potential in Marfeel. They see it in the product, the principles, the vision, and the ambition.
But Marfeel's customer's don't just see it. They live it. Just take a look at some of our success stories.
Don't be left out of the conversation. Join it. Contact us today at hello@marfeel.com.